Pogba misses penalty as Man Utd draw
Paul Pogba had a second-half penalty saved as Manchester United were held to a Premier League draw at Wolves.
With the score 1-1 in the second half, the Frenchman was fouled by Conor Coady and got up to take the spot-kick, despite failing with three penalties last season and Marcus Rashford scoring from one against Chelsea on the opening weekend.
Pogba's powerful shot was pushed away by Rui Patricio, who saved low to his right.
In a first half containing just three shots, Anthony Martial had put United in front with his 50th goal for the club – a fine left-footed finish – only for Ruben Neves to level with a sensational strike from the edge of the area, which bounced down off the crossbar 10 minutes after the break.
Wolves' Raul Jimenez had flicked a header against the inside of a post just before Neves' effort but neither keeper was troubled after Pogba's miss.
In his news conference on Friday, United manager Ole Gunnar Solskjaer said he wanted Martial and Rashford to be more clinical in front of goal.
He might well have been talking about the cross Rashford floated over to the far post midway through the opening period.
It is easy to imagine someone like Alan Shearer taking every defender with him in his desire to make sure the ball ended up in the net. Martial barely extended his right leg, let alone made contact as the opportunity drifted away.
What followed underlined just how many goals the Frenchman is capable of getting if he did adopt that ruthless streak. After a fantastic move, which started with Jesse Lingard, included Luke Shaw and ended with Rashford prodding a short pass beyond the Wolves defence, Martial struck a first-time shot, with barely any backlift, that gave Patricio no chance.
It was part of an excellent opening period for the visitors, only spoiled by the booking winger Daniel James received for diving.
The second half was a different story but United probably would have won had Pogba not missed his penalty.
The key question is why was Pogba taking it?
In addition to scoring against Chelsea, Rashford also converted in stoppage-time to seal that magnificent Champions League win at Paris St-Germain last season, in addition to scoring in England's World Cup shootout against Colombia at the 2018 World Cup.
At the final whistle, Pogba covered his head with his shirt, then chuntered to himself as he headed for the tunnel.
Traore the game-changer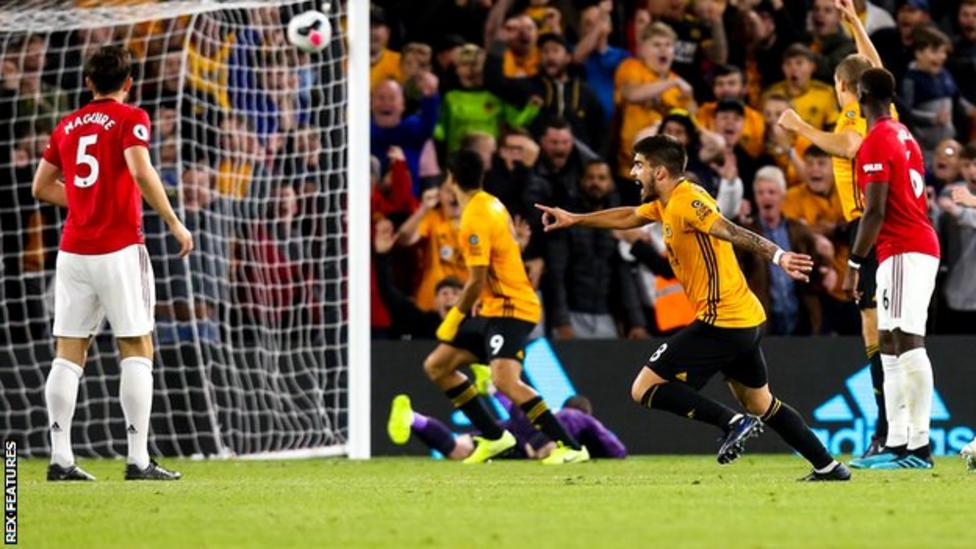 Martial's effort turned out to be the only shot on target in that first half of three efforts on goal. There hasn't been a top-flight game with fewer since 2003-04, when such statistics started to be collated.
It also meant Wolves had managed only two shots on target in the first match and a half of their Premier League season, something that will need to change if they are to match last season's excellent seventh-placed finish.
Having beaten them twice at Molineux last season, Wolves were aiming for a third successive win against United for the first time in almost 40 years. After a disappointing opening period, Adama Traore's half-time introduction changed the game in their favour.
Traore's pace unsettled the visitors' defence and from a free-kick Harry Maguire conceded for a foul on the Spaniard, Jimenez hit the inside of a post with a deft flick from Joao Moutinho's cross.
It turned out to be a temporary reprieve for United as Moutinho picked Neves out with his corner.
On the bench, manager Nuno Espirito Santo leapt in delight. There was barely any room between David de Gea's outstretched hand and the top of the visitors' net.
The goal provided another video assistant referee (VAR) talking point.
Before this season, Molineux would have erupted in joy at Neves' wonderful equaliser, those watching on TV would have said 'wow' and the Manchester United fans would have shrugged and accepted they had seen a phenomenal goal.
Instead, home celebrations were cut short as referee Jon Moss took instruction from the video referee Paul Tierney on a potential offside. The decision eventually went their way but the Wolves fans were loud in their collective view that the ends do not justify the means.
Man of the match – Ruben Neves (Wolves)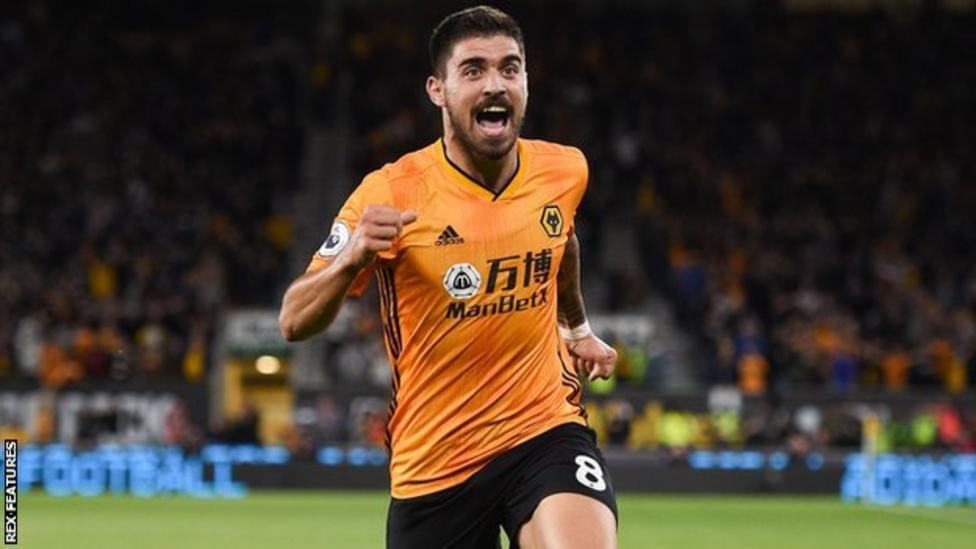 'Neves has fantastic technique' – reaction
Wolves manager Nuno Espirito Santo, speaking to the BBC's Match of the Day: "I'm pleased with the performance. In the first half United controlled the game and pressed very high. In the second half the reaction was very good. I'm proud of all the performance.
"Adama Traore helped the team when he came on. He's about that. The squad is about managing the options you have.
"When Neves lined up the shot for the equaliser I was hoping, not expecting. He has fantastic technique."
Manchester United boss Ole Gunnar Solskjaer said: "We dominated possession, we get the first goal and second half we know they'll come out like a house on fire.
"They probably got the goal they deserve. I thought we took control again and could have won it.
"First half was a mature performance. Second half was a bit sloppy. We are improving. We are a young team who will learn, we learned on the pitch today.
"We get a penalty that normally would get us another two points, sometimes the keeper makes a good save."
BBC